By Diana Dick, OneCoast
The purpose of this post is to inspire ideas for content marketing for your store's customers, especially in baby and kids sales. Feel free to share these ideas and our Pinterest board pins with your store's social media fan base. This can also be used as a conversation starter with your customers or even to spark your own post on your store's blog.
---
"Where do my kids socks go?" As a mom of 2, this is one of my life's greatest mysteries (matching socks are hard to come by in my household). I'm sure there are other moms out there that have an overflowing basket full of single socks waiting for its lost sole mate. I have accepted this laundry conundrum and decided to make lemonade out of my lemons!
So, whether it's the sock monster or you have kids, like mine, who love to pull off their socks where they stand, here are 10 of my favorite (and creative) ways to upcycle those single socks.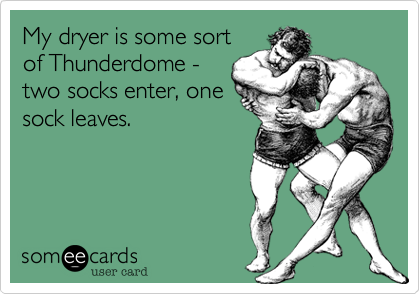 Ice pack cover for boo-boos – Your little one already has a boo-boo. Are you going to add frostbite on top of that? No way! Whip out a single sock and put the ice pack in it. Then, switch to Dr. Mom mode; kiss that boo-boo and hand them that ice pack coozie!
Bean bags – I actually use rice because we have a LOT of rice.  I love this double-duty 5 minute no-sew hot pack tutorial from Rae Gun Ramblings.
White board eraser – Neat. Easy. Clean. The best part is that you can easily get to the marker gunk in the corners and along the edges.
Sock plushy/lovey – My kids are lovie addicts…plushies, blankets, you name it – they can't let go of it.  Check out our Pinterest board for a some cute project tutorials.
Keep small toys or game pieces together – Baby socks are a must for this tip; it keeps all the little playing pieces and dice in one place especially if you travel with your board games to camp or the lake/beach.

Coin purse – This one is on my crafting bucket list.  I've saved my daughter's adorable Mud Pie sock singles for this very project.  Here's a great tutorial on Repeat Crafter Me.

Dusting computer keyboard or screen – Socks are my favorite for this cleaning project. Gentler than paper towels and less fuzzies than using a cotton swab. Plus, I can toss it in the wash when I'm done.
Sock bun – For my sock buns, I like using my hubbie's socks. For my daughter, I like taking 2 baby or kid socks to make 2 mini-buns on top of her head.  You can find a tutorial on our Pinterest board.
Cleaning or polishing rag – Duh! This is a no-brainer but they are p-e-r-f-e-c-t for polishing silverware, jewelry and even my shoes!
Wear mismatched socks! Admittedly, it's hard for my neurotic-side to let my toddler walk out of the house with mismatched socks. But, this is officially a trend.
For more fun stray sock DIY ideas and tutorials, checkout our Pinterest board.
Leave a comment and let me know; what are some ways you like to repurpose those stray socks?